Php Script
PixaCart – Multivendor Flutter eCommerce App With Seller & Admin Panel (Web) Free Download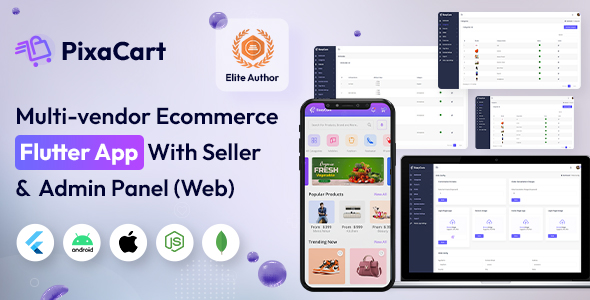 PixaCart Multi-Vendor eCommerce Flutter app is a lightweight app developed on Flutter technology, no matter which OS you are using, it will work fine on both Android and iOS. It is clean, elegant, fully structured, and user-friendly.
It includes an admin and seller panel that allows admin to control the business at their fingertips. Admin panel has the facility that opens every door for your business to reach the next level with easy management only with the PixaCart flutter app.
The Admin panel and a dashboard allow the admin to track the count of happy customers and the orders and total sales. The category and subcategory help the admin know about products, their availability, etc. The attribute, order, and products section keep you updated about the stocks maintained.
The available payment option (COD and Razorpay) makes it easy for the customers as well as the seller. So don't miss this great deal that will make a profit easily and administration quick.
Try our demo –
Login URL:
https://ecom.node.pixelnx.com/
Admin Login Details:
Username – admin@gmail.com
Password – 123456
Seller Login Details:
Username – seller@gmail.com
Password – 123456
Try our App – Demo Login Details
Username – demo@gmail.com
Password – Demo@123
Features of the Admin
Dashboard
Brand Management
Category/Subcategory Management
Products attributes
Customer Management
Support / Ticket System
Payment Gateway Management
SMS API Integration
Currencies Management
App Settings
SMTP Mail Settings
Push Notification
Compliance Page Setting
Terms and conditions / Privacy Policy / About Us / FA
Features of the Seller
Signup / Send Become A Seller Request
Login
Dashboard
Order Management
Refund Request
Return Request
Product Management
Product Review / Rating
Withdraw Request
Features of the App
Splash screen
Login/Signup screen – both Mobile number and Email.
Forgot password
Bio Metric Authentication for security
Dynamic promotional banners
Popular Products
Trending Now (Products )
People also viewed
Recommended Items
Search
Profile management
Notification
Wishlist
Category & Sub category wise products
Brand list and products
Cart Management
Reviews products wise
Customer review helpfull count
Single product screen
Customer questions on the basis of products
My Order management (Track status)
Cancel Order management
Refund & Returns
Generate Tickets and its management
Help center
Privacy Policy
OTP verification
FCM (Firebase cloud massages ) (Android )
In a nutshell, this excellent App can help your business to grow and flourish in a multifold way. So what are you waiting for? Buy this efficient & effective PixaCart App at the most reasonable prices now.